A Mickey Mantle Baseball Card Sells for Record $12.6 Million at Auction
A mint condition Mickey Mantle baseball card has sold for $12.6 million on Sunday, surpassing the previous record for sports memorabilia.
PHOTO: LM OTERO/ASSOCIATED PRESS
The rare mint condition 1952 Topps card of the Yankees slugger surpasses the previous high for sports memorabilia—$9.3 million for the 'Hand of God' jersey
By Ginger Adams Otis Aug 31, 2022
Mickey Mantle just hit another home run. 
A mint condition baseball card of the New York Yankees slugger sold for $12.6 million Sunday—a record price for a piece of sports memorabilia.
The 1952 Topps baseball card was sold through Heritage Auctions by Anthony Giordano, a waste management businessman from New Jersey. He had bought the card at a sports memorabilia show in New York City in 1991 for $50,000.
Mr. Giordano, 75 years old, stopped watching the online auction Saturday night when the price hit $10 million, he told the Associated Press. His sons stayed awake and gave him the final price in the morning, he said.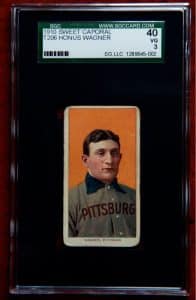 The closing bid of $12.6 million went to an anonymous buyer. It eclipsed the sports memorabilia record set in May, when someone paid $9.3 million for the jersey worn by Argentine soccer star Diego Maradona as he scored his controversial "Hand of God" goal in the 1986 World Cup. 
Earlier this month, a rare, authenticated Honus Wagner T-206 baseball card changed hands for $7.25 million in a private sale. It was the most expensive trading card sold until the Mantle auction on Sunday.
The previous record was set in April 2021 by another Wagner T-206 card, which sold for $6.6 million. 
The 1952 Mantle card sold by Mr. Giordano is just one of a handful of the Hall of Famer still in existence and in near-perfect condition. 
Its backstory is also legendary within the sports collector world. 
In 1951, Mr. Mantle was a rookie from Oklahoma trying to make it in the Major Leagues with the New York Yankees. He was injured while chasing a fly ball in the World Series that year. 
But the next season, 1952, he returned to the Yankees as starting center fielder, replacing another Yankee great, Joe DiMaggio. Mr. Mantle became a fan favorite, batting .311 with 23 home runs and 94 runs scored. 
Top 10 highest prices paid for sports cards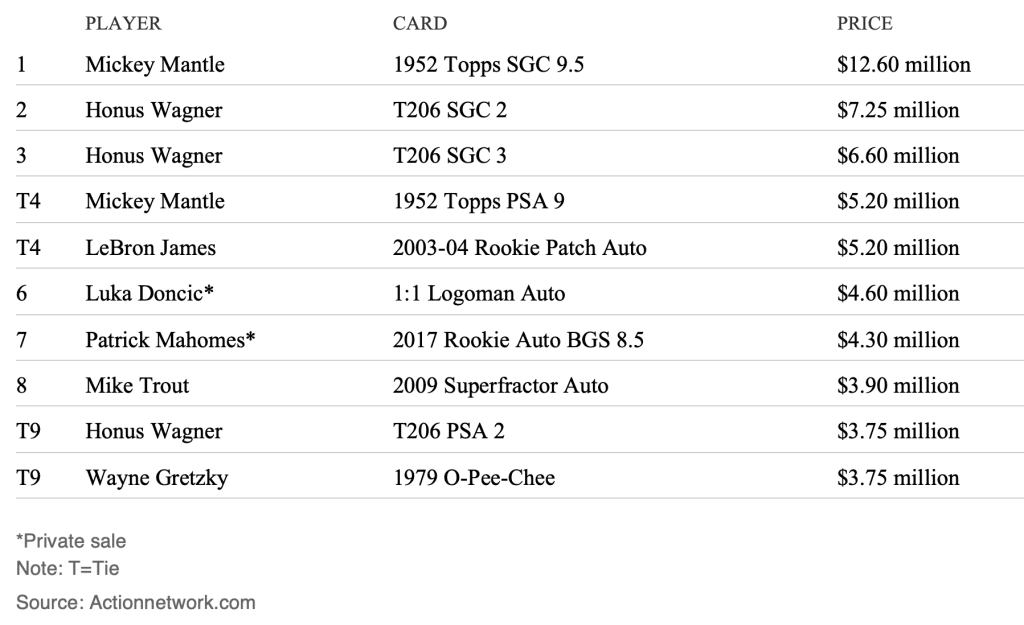 Topps baseball cards began a print run for a Mickey Mantle baseball card, but most of those marked number 311 arrived too late for the 1952 season, according to a history of the item from Heritage Auctions. 
The unsold stock was eventually destroyed by Topps. As time passed and Mr. Mantle's fame grew, demand for his baseball cards exploded. Collectors placed a premium on the extremely rare 1952 version marked number 311. 
The discovery of the card sold Sunday goes to a pioneer in the sports memorabilia industry, a man named Alan Rosen, who marketed himself as "Mr. Mint." 
Mr. Rosen was contacted in the late 1980s by a man in Boston who claimed his father had been a delivery driver for Topps and had kept a case of baseball cards that were meant to be destroyed, Heritage Auctions said. 
He drove to Boston and struck a deal for the memorabilia, known to collectors as the "Rosen Find." It included multiple number 311 Mickey Mantle cards, one of which Mr. Rosen sold in 1991 to Mr. Giordano. 
Mr. Mantle played his entire 18-year career with the Yankees and was inducted into the Baseball Hall of Fame in 1974. He was named Most Valuable Player three times and won the American League Triple Crown in 1956. In his first eight seasons in New York, the Yankees won seven AL pennants and five World Series titles, according to the Hall of Fame. 
He retired just before the 1969 season with 536 home runs and a career .298 batting average. In all, he helped the Yankees win seven World Series titles. The Hall of Famer died in 1995 at 63 years old. 
A new crop of entrepreneurs is betting big that trading cards are no longer just hobbyists' collectibles, they're serious investment assets. In this episode of Niche Markets, WSJ speaks with entrepreneurs who have found success in the booming trading market. Photo Illustration: Alexander Hotz/WSJ
Confident your collection is fully considered as part of your financial and estate planning? 
Let's Talk