Legendary Moments in Baseball History Captured by the Art of Dick Perez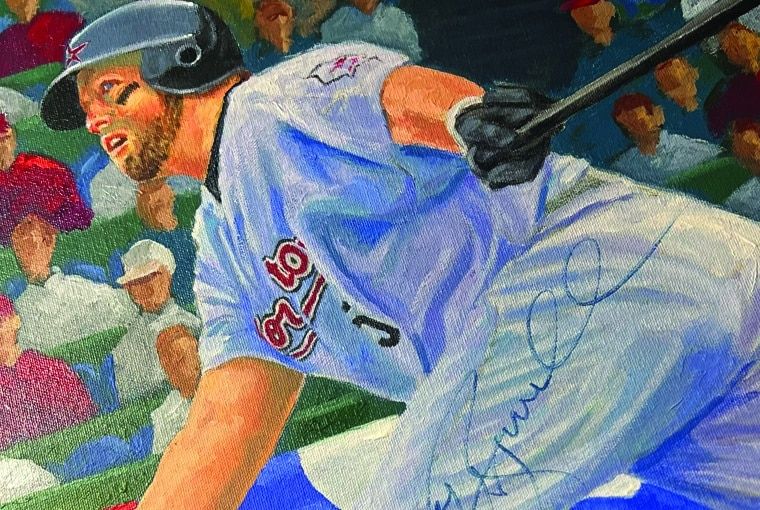 The Artistry of Baseball: Tom Ruggie Celebrates Dick Perez and 'The Diamond King' Documentary Through His Art Collection
Baseball has always been more than just a game; it's a narrative woven through history, emotions, and artistic expressions. A collector and avid baseball enthusiast, Tom Ruggie, is the embodiment of this profound connection between sports and art. With a personal collection boasting 33 original Dick Perez paintings, Tom Ruggie's passion for baseball and art is undeniable. As we celebrate the upcoming documentary "The Diamond King," which delves into the rich history of baseball through the lens of Dick Perez's life and art, let's explore Tom Ruggie's favorite Dick Perez pieces and the stories they tell.
The Legacy of Dick Perez
Dick Perez is often referred to as "baseball's Picasso." His ability to capture the essence of baseball legends through his art is unparalleled. With a career spanning decades, Perez has created an extensive body of work that showcases his deep love for the game. His portraits of baseball icons are not just paintings; they are tributes to the sport's history and the indelible mark left by its greatest players.
A Collector's Passion
Tom Ruggie's collection of Dick Perez art pieces is nothing short of a baseball treasure trove. Each painting represents not just a player, but a piece of baseball history. Tom's passion for collecting goes beyond mere acquisition; it's about preserving the spirit of the game and its legends for generations to come.
In his recent video discussing his favorite Dick Perez art pieces, Tom takes us on a journey through his collection, offering glimpses of the artwork that holds a special place in his heart. These paintings aren't just static images on a canvas; they are windows into the past, portals through which we can relive the most iconic moments in baseball history.
Tom's Favorite Dick Perez Art Pieces
Tom's video showcases his top three favorite collections of Dick Perez's art pieces from his personal collection, each accompanied by its own unique story and significance.
Tinkers, Evers, Chance: In Tom's collection, these three Hall of Fame players hold a special place. They made their mark in the early 1900s while playing for the Chicago Cubs and gained fame through a poem written by a Giants fan during the World Series, highlighting their exceptional double play prowess. Joe Tinker, Johnny Evers, and Frank Chance formed an unforgettable infield trio: the ball would be hit to Tinkers, who'd toss it to Evers, and then it would find its way to Chance at first base.


Tom's prints of these players originally came from the renowned collection of a well-known sports memorabilia collector Barry Halper. After Barry's passing, the paintings found a new home with Penny Marshall, the beloved producer of several successful feature films and star of "Laverne and Shirley." Eventually, these remarkable pieces went to auction, where Tom acquired them.

Christy Mathewson & Walter Johnson: These artworks went up for auction alongside their counterparts Honus Wagner and Ty Cobb. Tom placed bids on all four pieces but secured only the Christy Mathewson artwork. Several years later, Walter Johnson's painting reappeared in an auction, affording Tom another chance to add it to his collection. He remains on the hunt for the missing Honus Wagner and Ty Cobb paintings to complete the set.
Albert Pujols: Tom holds a special affection for this stunning piece due to its unique backstory. He had sent it to be signed by Albert Pujols but, in a twist of fate, it got mixed up with another painting intended for Joe Morgan's signature. Remarkably, the error wasn't detected, and Joe Morgan ended up signing the Albert Pujols piece. Now, this artwork boasts two signatures, making it even more extraordinary.
Regrettably, the art piece intended for Joe Morgan's signature did not reach the player before his unfortunate passing in 2020, leaving that part of Tom's collection incomplete.
Tom Ruggie's video isn't just a showcase of his impressive collection; it's also a call to action. He encourages viewers to support "The Diamond King" documentary, which promises to provide an in-depth look at Dick Perez's life and artistry. By contributing to the Kickstarter campaign, fans can help bring this captivating project to life and ensure that Perez's contributions to the world of baseball and art are celebrated on a grand scale.
Support the documentary and become a part of Team Diamond King!
Confident your collection is fully considered as part of your financial and estate planning? 
Let's Talk