For Sale: Memories From One of Hollywood's Most Enduring Love Stories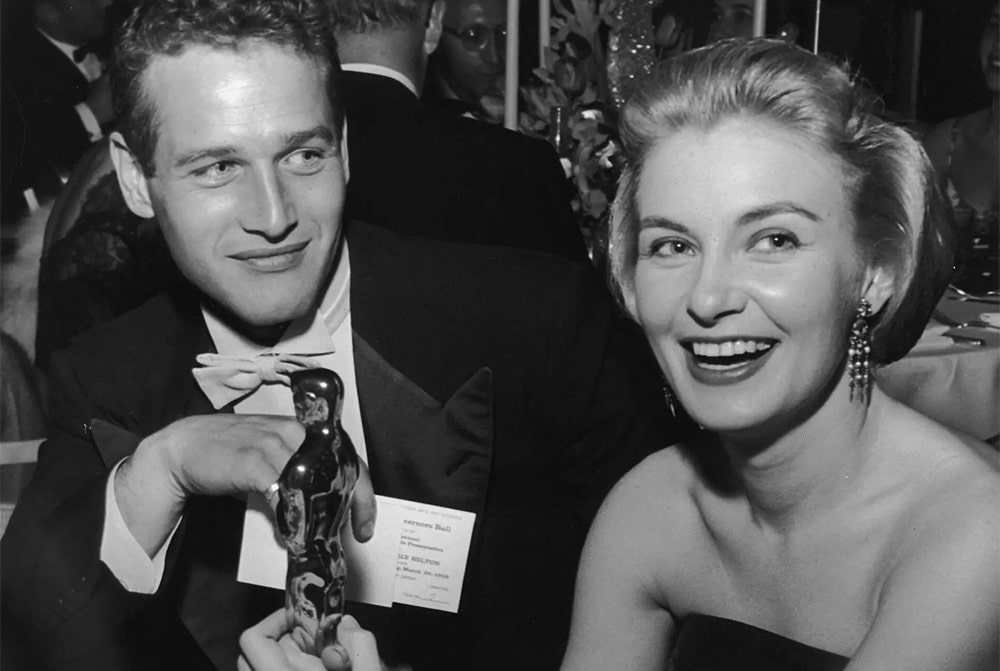 More than 300 items that belonged to Paul Newman and Joanne Woodward will be sold in June in a series of auctions run by Sotheby's in New York.
March 3, 2023


Shackles from the film "Cool Hand Luke"; a script from the 1963 comedy "A New Kind of Love"; the wedding dress that Joanne Woodward wore the day she married Paul Newman in 1958.
These artifacts, along with some 300 others, tell the story of a union between two of Hollywood's most enduring film stars that lasted more than a half century. It began in 1953 and lasted until Mr. Newman, a magnetic titan of the screen, died in 2008 at the age of 83. Ms. Woodward, 93, a formidable talent, has kept a private life since she was diagnosed with Alzheimer's disease in 2007.
The auctions, which will take place both online and in person in New York, follow the recent release of 
"The Last Movie Stars,"
 a six-part HBO Max documentary series directed by Ethan Hawke and based on audio transcripts of interviews with the couple's friends, colleagues and family members.
"The family really felt that this was the right time to continue telling the story of their parents," Mari-Claudia Jiménez, a Sotheby's chairman and managing director, said by phone on Wednesday. The proceeds from the sales, she added, would go to the family.
The items, most of them from the couple's home in Connecticut, include family photographs and autographed scripts, as well as awards, props and costumes from films including "The Color of Money," "The Three Faces of Eve" and "Butch Cassidy and the Sundance Kid," Sotheby's said.
Ms. Woodward's wedding ring; autographed letters and photographs from Presidents Jimmy Carter, George H.W. Bush and Bill Clinton; antique furniture and art collected by the couple, as well as racing memorabilia kept by Mr. Newman, a keen racecar driver, will also go on the block.
Sotheby's has estimated that an embroidered suit worn by Mr. Newman at a 1971 Ontario Motor Speedway race could sell for up to $25,000; that the "Cool Hand Luke" shackles could sell for up to $5,000; and that Ms. Woodward's wedding dress could fetch up to $1,200. But Ms. Jiménez, the chairman, acknowledged that these estimates were very conservative.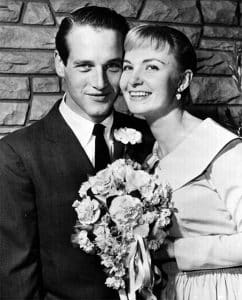 Mr. Newman and Ms. Woodward after their wedding ceremony in Las Vegas in 1958. Her dress is among the items being auctioned.
Credit…Associated Press
"You put in very reasonable prices that get people excited about the possibility of owning this piece of history, or this piece of Hollywood memorabilia, and then you have so many people competing that, inevitably, it sells for many, many increments above what we had estimated it at," she said. "You'll see things that are estimated at $500 to $800 that end up selling for $20,000."


But in the case of Mr. Newman and Ms. Woodward, both Academy Award winners, it is not just the relics of their lives on set that are up for sale.


The pair, most well known as Hollywood stalwarts, were also political liberals and philanthropists, who, according to a statement from their family, "dedicated their lives to pursuing the things that inspired them, whether personally, professionally, or as collectors."


Their family said that they hoped the public would enjoy the collection, which offers a glimpse into who the actors were "beyond their glamorous Hollywood personas."
Confident your collection is fully considered as part of your financial and estate planning? 
Let's Talk