Aaron Judge's 62nd Home Run Ball Going to Auction

By David Waldstein
New York Times
Nov. 17, 2022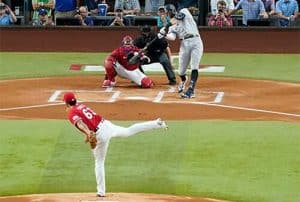 Late in the summer, while Aaron Judge was swatting balls over fences and closing in on his historic 62nd home run of the season, a parallel fascination centered on the potential value of the record-setting ball.
That value will soon be known because the fan from Texas who caught the ball is putting it up for auction, and he wants to set a record, too. Ken Goldin, the auctioneer in charge of selling the ball on behalf of Cory Youmans, the lucky spectator, thinks the ball will sell for more than $3 million. Depending on how much more, the sale could set a new benchmark for a game-used baseball.
"The ball has the potential to become the highest-priced baseball ever sold," Goldin said in a telephone interview. "Three million plus would be my estimate."
The current record was set with the auction of the ball from Mark McGwire's 70th home run in the 1998 season, which went for $3.05 million in 1999. McGwire, who played for the St. Louis Cardinals in the National League, later admitted to using steroids.
Judge, the Yankees outfielder, is currently testing free agency for the first time in his career and won the American League Most Valuable Player Award on Thursday. He set the A.L.'s single-season record when he clubbed his 62nd homer of the year against Jesús Tinoco of the Texas Rangers on Oct. 4 at Globe Life Field in Arlington, Texas, which pushed him past Roger Maris, who hit 61 for the Yankees in 1961.
The ball sailed over the left-field wall and was caught on the fly by Youmans, who is from Dallas and is said to work for Fisher Investments. Youmans, who stood in the first row, snared the ball in his baseball glove and was then escorted by security guards to the bowels of the stadium, where the ball was checked for its secret markings and authenticated by M.L.B. officials.
Youmans later approached Goldin Co. to handle the sale. The ball, which has been resting in a safe deposit box, was taken by armed guard to Goldin's headquarters outside Philadelphia this week, and the online preauction process began on Thursday.
"It would not surprise me if the winning bidder either purchased it on behalf of Aaron Judge or possibly donates it to the Hall of Fame," Goldin said. "I definitely think it's one of those items that would garner that type of interest."
The auction house will be paid a 20 percent buyer's premium, which will be added to the highest bid. The bidding is scheduled to end Dec. 17. According to Goldin, Youmans's contract with his employer prohibits him from speaking publicly.
Confident your collection is fully considered as part of your financial and estate planning? 
Let's Talk